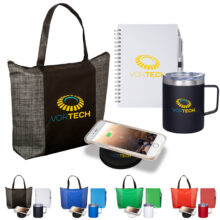 Everyone enjoys getting something for free – no matter what happens in the world, that is simply a truth that will never change. When it comes to swag and promotional products, you want to turn your clients and employees into brand ambassadors while rewarding their loyalty with something they can actually use and enjoy.  Rather than simply sending out swag, why not incorporate it into a virtual event of some kind?  This is a fun way to foster employee goodwill or increase brand awareness and loyalty.  There are many ways to send fun swag out in advance so that everyone involved in an event has everything they need to participate in the activities.  
Creating themed baskets and swag for your virtual event enables you to better engage attendees, humanize the virtual experience, and extend the positive experience far beyond the event! You can customize themed boxes or baskets with any traditional swag items just as though they were attending a trade show or other event.  And, you can think beyond the daytime events to the breaks and social events where fun networking and bonding happens.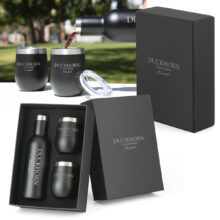 A fun way to better humanize a virtual event is with a virtual coffee break or happy hour. Included in their box that you send in advance, you could include a branded coffee mug and coffee, a bottle of wine with branded wine glasses.  Throw a virtual bingo night and send out bingo cards, a marker, and some delicious snacks!  The possibilities are endless and can be tailored to your unique brand identity and event type.  Let the creative and fun team at Connect the Dots help you design an event with a swag box or basket that will enhance the experience and create a lasting positive impact for your business. Want to start looking for some fun product inspiration?  We've made it easy for you to search ideas right on our website – CLICK HERE to start your search!

WE'RE YOUR CONCIERGE IN THE PROMO WORLD
Contact us to see how we can help you CONNECT THE DOTS!
FOLLOW US
To see our latest work follow us on our social networks.