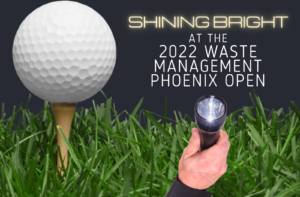 When a business reaches out with a big and unique promotional product need, the team at Connect the Dots Promotions does what they do best – find the perfect promotional product to meet the need with style and creativity. Shortly before the 2022 Waste Management Phoenix Open (the highest attended golf event in the country with a 5-day event attendance average of a half-million people!), Local Board Real Estate reached out to us because they were sponsoring an event on the Open's 16th hole. If you are unfamiliar with the 16th hole at the Waste Management Open, it is unlike any other hole in golf, on any other golf course. Each year, a stadium is built around the 16th hole to host some of the most raucous event attendees – the atmosphere is LOUD and ELECTRIC! The single-hole stadium alone can hold as many as 16,000 people!
This year, for the first time ever, the 16th hole was also home to the Waste Management Phoenix Open Concert in the Coliseum where, after daily tournament play was completed, Thomas Rhett and Old Dominion took the stage for a concert. Because the concert took place in the evening, it was dark outside when it was over and Local Board Real Estate was tasked with making sure 12,000 people made it all the way back from the 16th hole to the event exit. 
At Connect the Dots, we saw an exciting opportunity to not just solve the issue of helping people navigate their way to the exit in the dark, but to transform their concert experience with something useful and impactful – a flashlight! A small flashlight made a HUGE visual impact when all the concert-goers used it during the performance and then they had a useful safety tool right in their hands when it came time to exit. And, the best part for Local Board Real Estate (aside from giving everyone an unforgettable concert experience) was that the flashlight was branded with their logo so that every single person had a reminder of exactly who gave them that great experience. Need a creative way to make a big and lasting impact with promotional products? The team at Connect the Dots Promotions is ready to work with you to find the perfect promotional products for your business!